Our cookies
We use essential cookies to make our website work smoothly for you. To make sure we're always improving, we'd like to use analytics to track how people use the site. We won't set non-essential cookies unless you give us permission. You can find more information about all the cookies we use in our Privacy and Cookie Policy.
Some cookies are a must for our website to function properly. If you turn off essential cookies, it may affect how you experience our site.
The non-essential cookies we use help us understand how you use our website and make improvements to enhance your experience.
Salisbury Rovers Setting Positive Example by Defending Children's Right to Play
Salisbury Rovers Football Club are a driving force for change in children's coaching and, as a partner organisation of the Children's Coaching Collaborative (CCC), are committed to helping the CCC achieve its objective to create a nation of "child-first" coaches.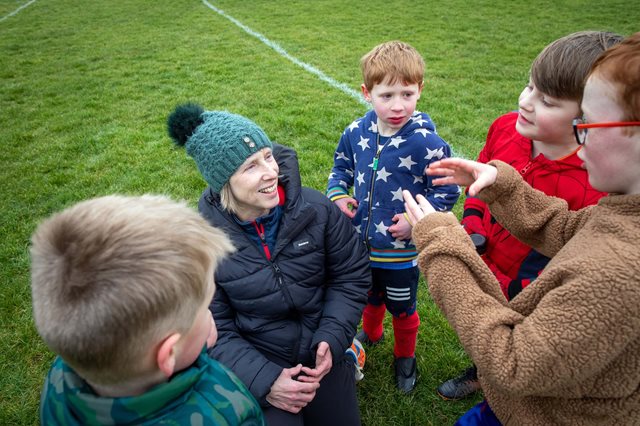 We spent a fun and illuminating morning at the innovative club to see what a child-centred approach looks like in practice, and spoke to club founder Debbie Sayers about why it is essential children are given control of their fun.
We take a human rights-based approach to sport and explore how that could be embedded in our sporting practice…. looking at a child's right to play, right to be heard, right to develop, and taking a holistic approach to sport so that children are entitled to participate in decision-making."
Debbie Sayers Salisbury Rovers FC Club Founder and Coach
by Blake Richardson
What began as a simple fact-finding mission to Wiltshire to learn more about the role coaches can play in enabling children's enjoyment of sport and physical activity, turned into so much more.
Debbie Sayers is a youth football coach and recognised leader in the field of children's rights in sport. She is a passionate advocate for utilising child-first coaching techniques to improve children's fun, freedom, and sense of belonging.
Forthright in her views – as a lawyer she is used to speaking directly – Debbie is intent on ushering in cultural change for the sector, from coach-fed to child-led coaching practice, and inspiring traditionalist coaches on a journey of discovery.
A committee member of the National Children's Football Alliance, Debbie has extensive knowledge of how to apply child-first principles in practice. Which makes her a persuasive spokesperson for the child-first cause, presenting below a compelling argument for urgent transformational change.
Turning coaches into devotees is a huge challenge that won't happen overnight, but it will happen if coaches choose to act.
A desire to remould children's coaching
Many coaches have been socialised in the dominant practice of adult-led play.
Debbie believes there is a collective blind spot around the adultification of sport and physical activity. From her experience, the approach has become entrenched in coaching culture, with methods and ideas being absorbed by each new wave of coaches coming through.
Debbie believes that Salisbury Rovers are outliers among clubs by choosing to champion the benefits of child-first strategies so fervently.
"There are people who do similar things to what we do on an individual basis, but not on a club basis," she says.
"We as a club are outliers, really, in our practice. We are very clear with anybody making requests to join the club about our model. We say straight away we are different; we are inclusive; we are long-term; we are play-based; we are rights-based; it will not look structured; it will look chaotic.
"If you want your kids training laps around the track, doing circuits, being drilled, coach's voice, league match every Sunday where parents can shout to their heart's content… we are not for you!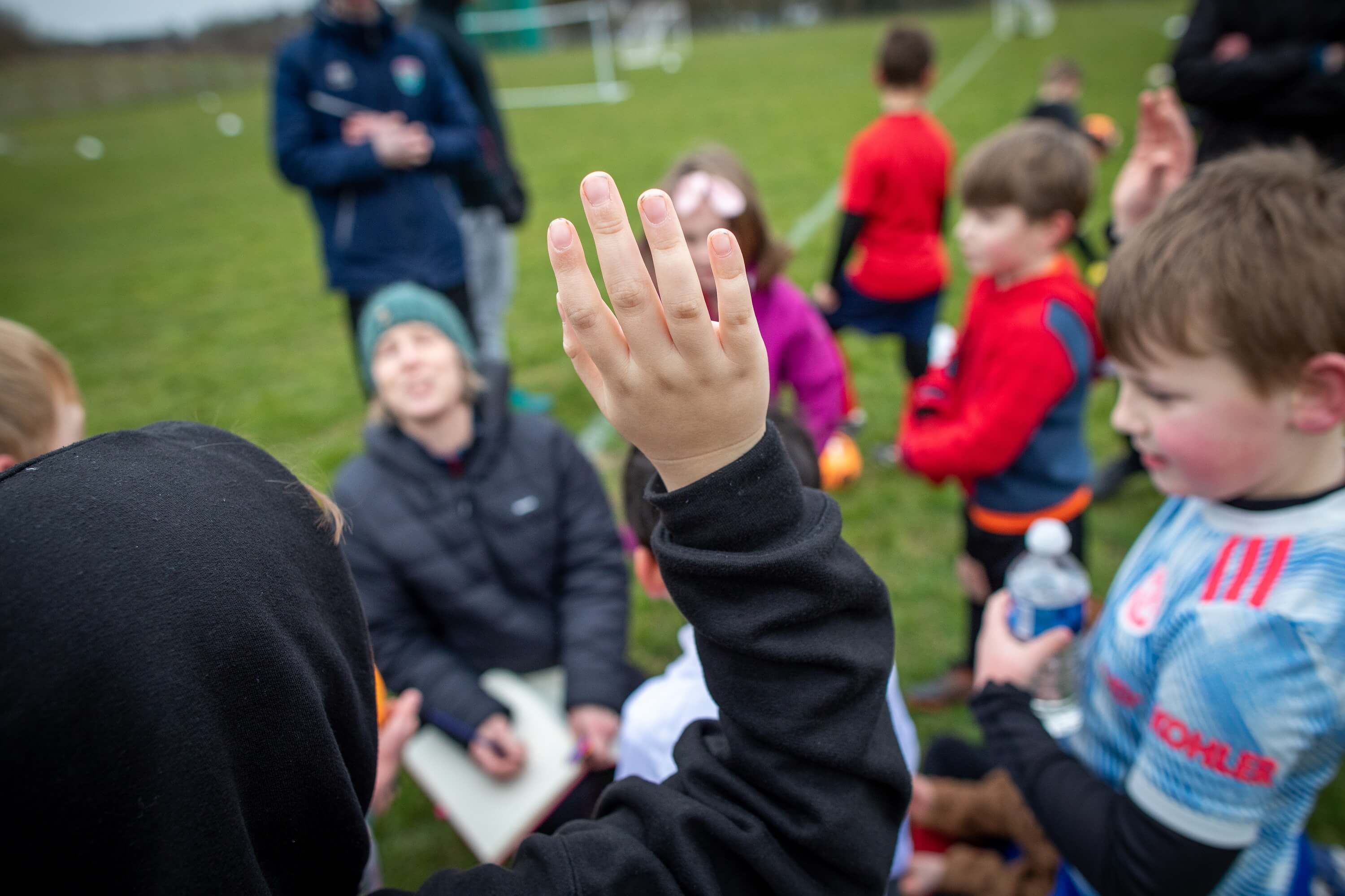 Club Case Study: Salisbury Rovers
"And, you know, we have found over the last season or so that being more dogmatic about that has helped build our inner core of people, with both parents and coaches.
Our philosophies and principles are based on human rights. They are not up for debate."
Debbie Sayers Salisbury Rovers FC Club Founder and Coach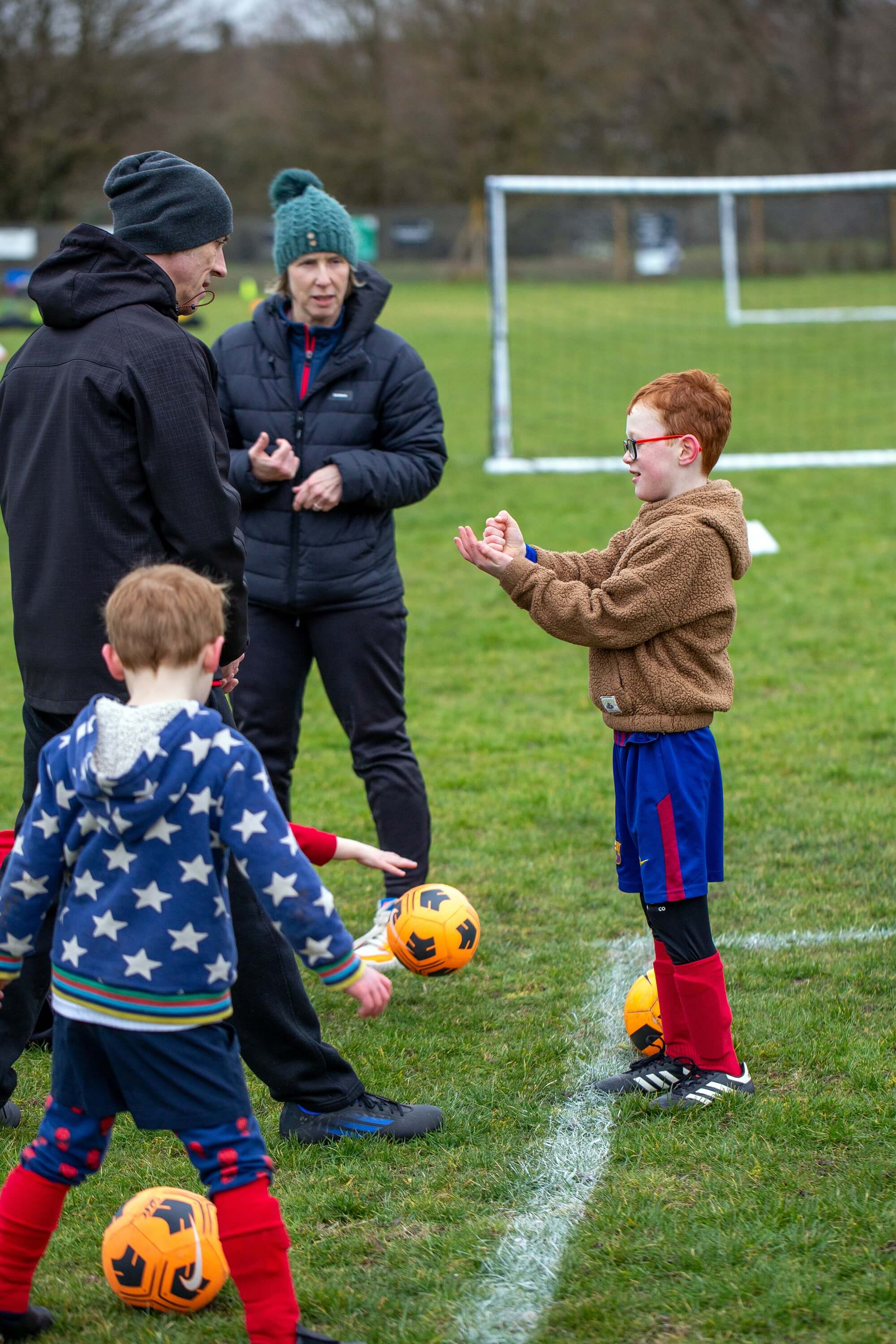 To incrementally remould coaching as we know it, so that sessions become a child-directed experience, stripped of adult motives and rules, will require a sea change in attitudes, methods, and coaching philosophy, and, says Debbie, we are still standing firmly at the foot of the mountain.
But the more coaches who experience eureka moments and become convinced that a coach-driven 'performance over play' perspective of sport should NOT come at the expense of children's short-term and long-term health and happiness, the more the movement will gather momentum, and the higher up the mountain we will climb.
And the higher we climb, the better the view.
Too many practitioners have inherited a myopic view of coaching according to Debbie, who says they need help to see the bigger picture and to experience the rewards that change will bring.
"We take a rounded view of development," says Debbie, who is also club secretary and welfare officer at Salisbury Rovers and a volunteer coach at its player-led Under-18 sister club, AFC Salisbury.
"It's about empowering children as they develop across the age groups to make choices about sport for themselves.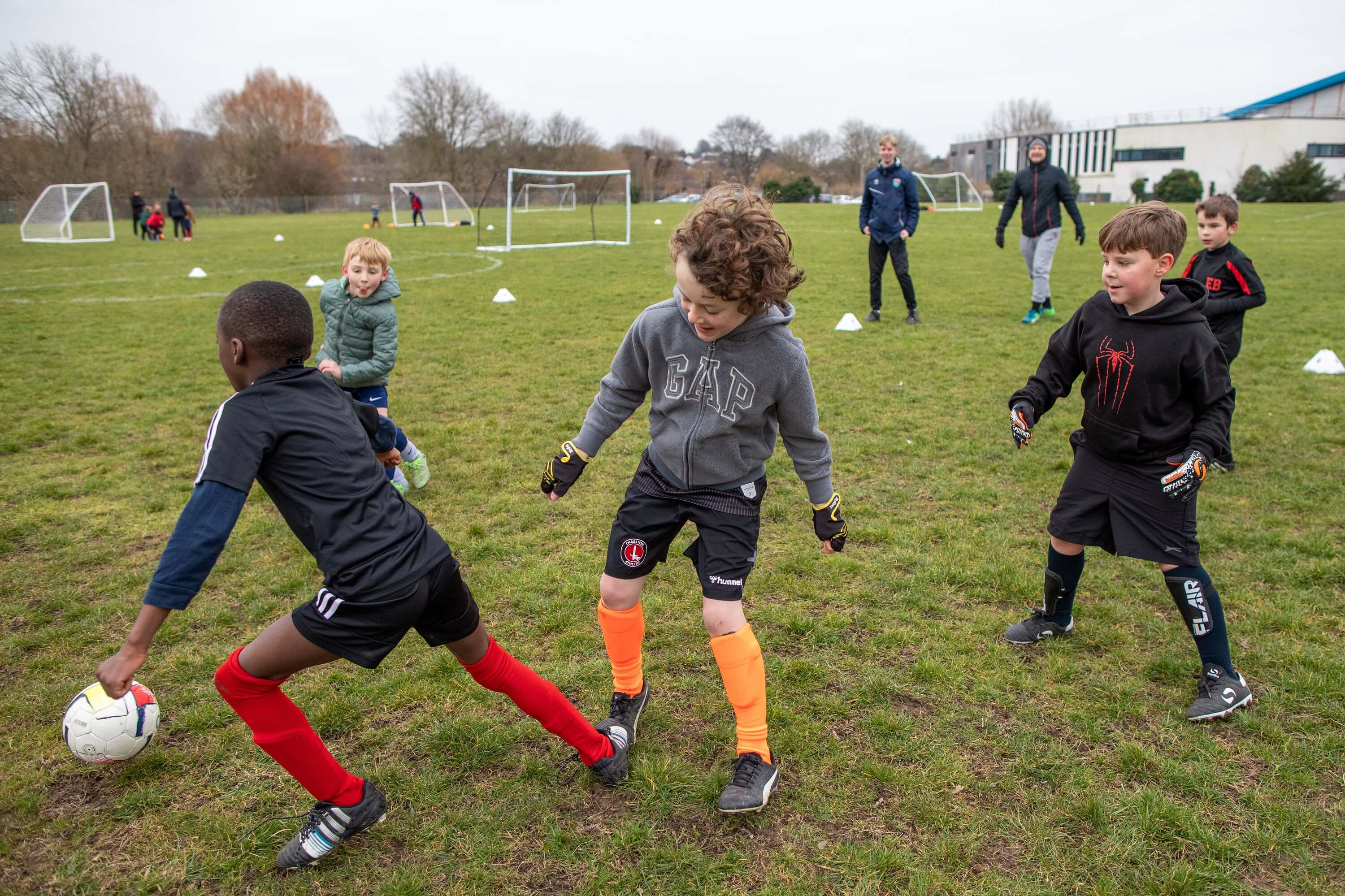 We believe that when children make choices, they are far more likely to be retained within the game, but also, they are far more likely to be happier as individuals, because autonomy and empowerment are really key to human development and happiness. 
Debbie Sayers Salisbury Rovers FC Club Founder and Coach
"We need to turn traditional practice on its head by asking, what does football look like through the eyes of the child playing the game? Because the game belongs to the children who play it. It doesn't belong to adults.
"What we've seen over the last few decades, through coach education processes and through societal processes, is adults controlling the youth sport space. It's all about, what does the adult session plan look like? What returns does the adult want from the game? How does the adult want to develop and produce players?
"If we're taking a human rights-based approach, we should be asking, what does the child want from the game? What does the game look like to the child?"
A thumbs-up to co-creation
Debbie encourages her coaches to collaborate with young people on sessions and goals and to centre the child's voice in their practice by actively seeking their input.
A session is not delivered to the children, it is delivered with them, because it is for them.
At the start of every training session, the coach and children will gather as a group to design what the session will look like. Then, at end of the session, the coach asks for the group's feedback – delivered, in the younger age groups, via a simple thumbs up if they liked it, a thumbs down if they didn't, and a sideways 'neutral' thumb for those with mixed feelings.
Ideas are then sought for the following week's session. If the consensus is 'we want something on finishing', for example, the coach will plan a game with the children around that skill.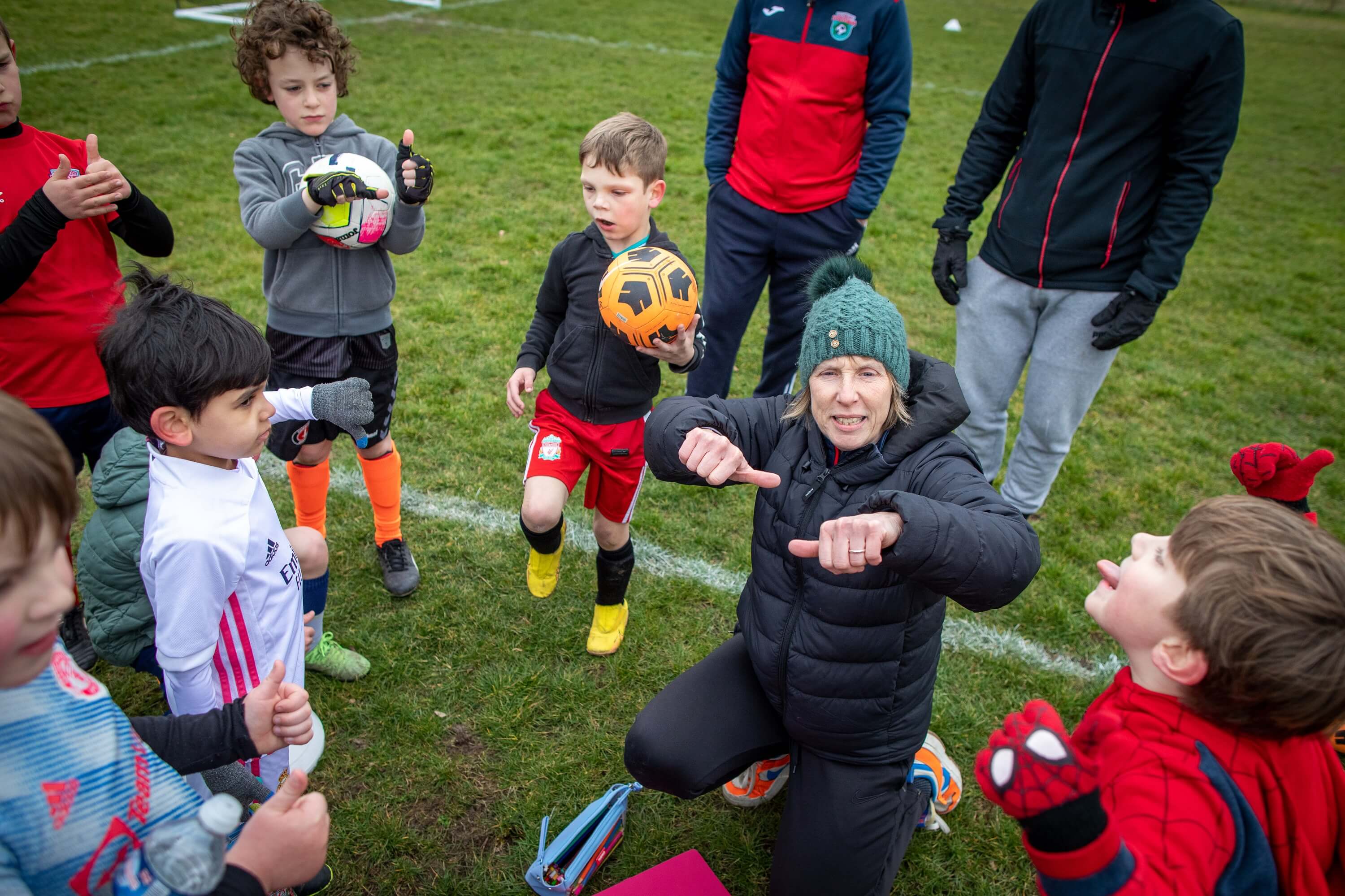 Feedback Form for Children & Young People
Don't drop the ball! Download our free tools, tips and games and grow your coaching practice – like this Feedback Form for Children and Young people developed by Professor Laura Lundy, which supports children to share their ideas and Play Their Way.
DOWNLOAD NOW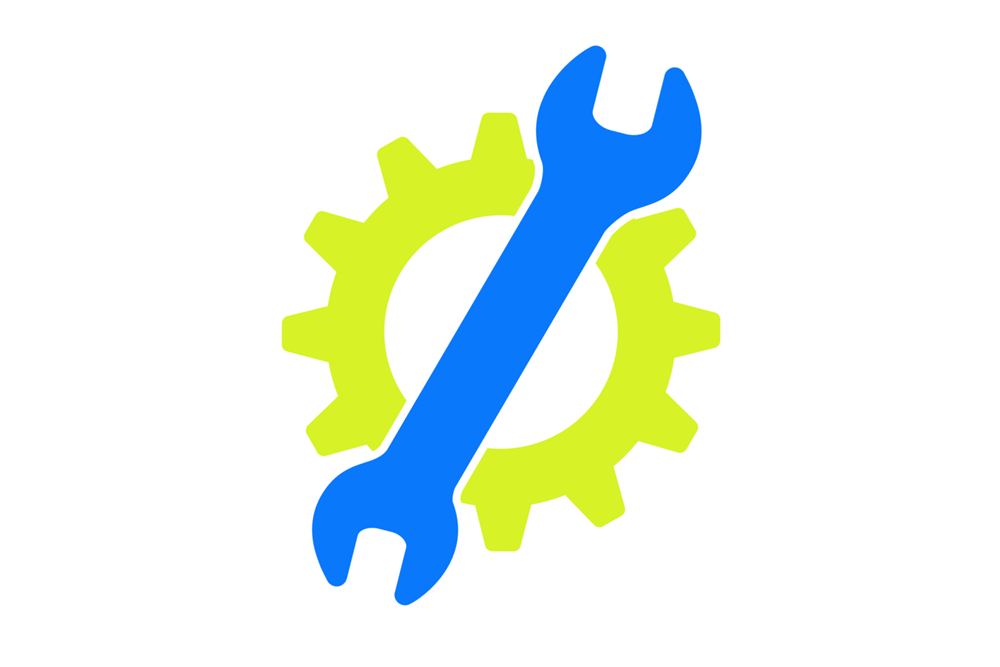 So, we've created a safe space for voices, and that's really important, because if you don't get children to be able to talk to you about the small stuff, they will never talk to you about the big stuff. So there are huge safeguarding implications here as well to creating that dialogue.
Debbie Sayers Salisbury Rovers FC Club Founder and Coach
"And that's really empowering because the children know that not only are we listening and we're asking, that they have influence and what they say matters.
"They get really excited about that and really engaged with us. In practice, the outcome, the actual substance of what a coach might plan and deliver, may not be that dissimilar. The difference is that you're planning and delivering with them; you're taking children with you on that journey because the journey is theirs."
Richard Tidmarsh has just completed his first year as a volunteer coach with the under-7s and under-9s. He says: "It's putting the kids first. They get to have a big say in what they do each week. We don't come with any predetermined plans other than just getting them out and playing as much as possible.
"And they lead the way with the games as well. We obviously oversee them, but they tend to manage the game themselves and we just try and step back and encourage, guide and nudge when appropriate."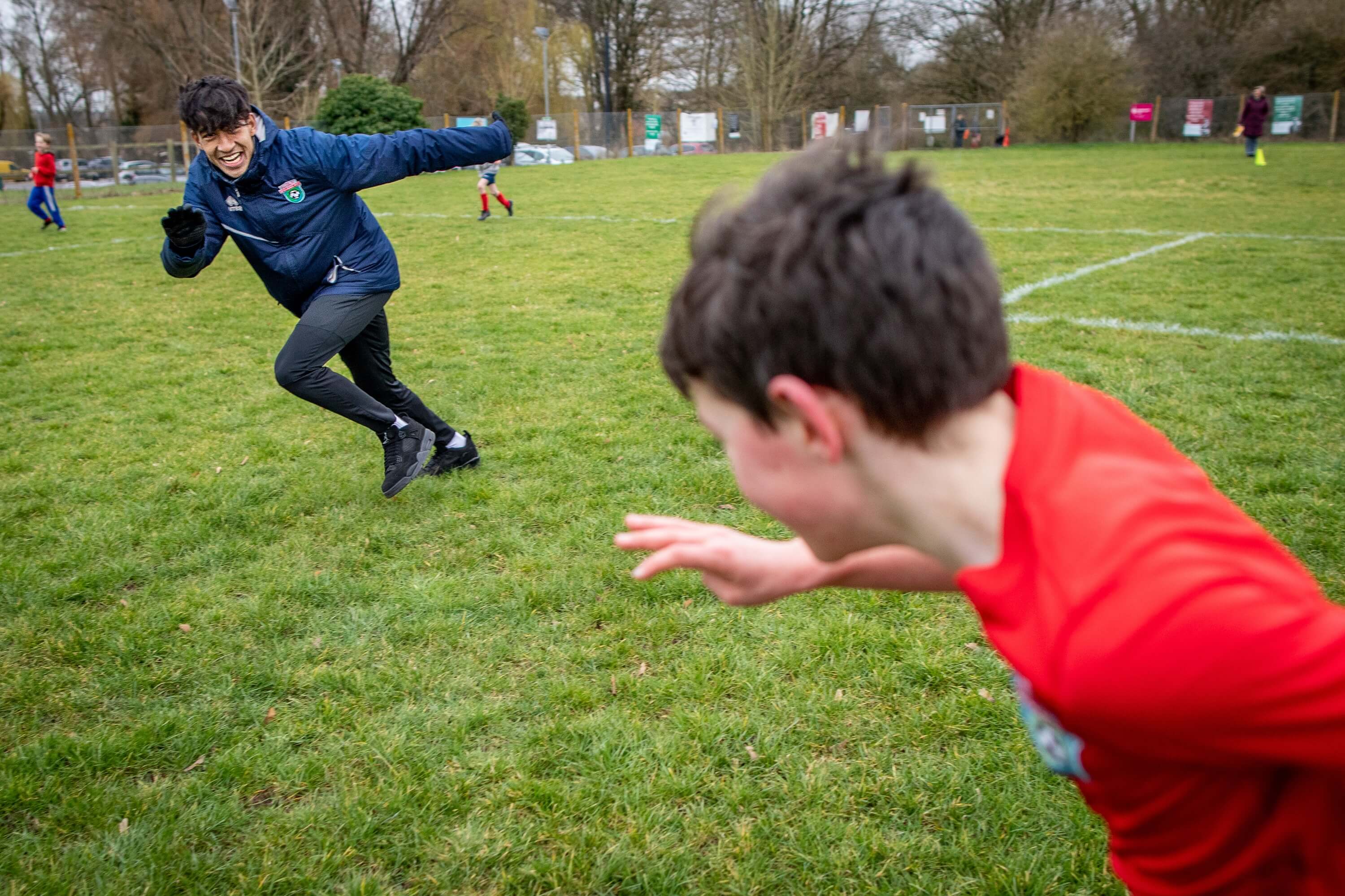 Exploding the myth of regimented coaching
Coaches should be encouraged to reconnect with the characteristics of their childhood and learn to listen to the child's voice.
Don't write the story for them, let them create their own story.
What can be worse, says Debbie, than delivering prescriptive practices to a bunch of silent, compliant children?
Debbie has a warning for coaches and clubs of the dangers of regimented coaching, where the focus is all on performance, and prioritising children's long-term success at the expense of their immediate enjoyment.
It is a love of the sport that drives children's development, not a heavy emphasis on skills and competitive success, and this should be cherished above all else – a fun-at-all-costs as opposed to a win-at-all-costs outlook, driven by the child's right to autonomy.
"If we're looking at a young person's journey within sport, I think that play is a powerful motivator for that journey," says Debbie.
"We are working with the evolving capacities of the child to develop them into autonomous individuals. Children who can think for themselves, question, share opinions respectfully and listen to others, will not only be better footballers but good citizens.
"We recently had a player trial for a Premier League club at Under-18. We have other 16 and 17-year-olds who started with us when the club launched who are playing at a good level of grass-roots football and starting their journey into adult football and futsal.
All they've ever had is our kind of system and it hasn't held them back. So, they are our biggest advocates if you look at play versus performance. They are self-motivated young people who have taken every opportunity to play with or without a coach."
Debbie Sayers Salisbury Rovers FC Club Founder and Coach
The club's system has empowered these young people to make decisions about their sport for themselves. We denigrate play so much, but it is a powerful, valuable thing to want to play a sport with your friends, to choose how often you play and to know that adults value your self-motivated play as well as your views.
Debbie adds: "Some young people will only want to play with friends recreationally, they may not want to play in teams. We acknowledge this, support it, respect it and try and accommodate it. Equally for those wanting to go as far as they can in the adult game, we value that too and we find ways of connecting with people who will open opportunities for them. The journey belongs to the player.
Let's keep children playing, making decisions for themselves, forming relationships with friends, having a social life, being normal, having a childhood, and then when they're old enough they can make decisions about what their sporting future should look like."
Debbie Sayers Salisbury Rovers FC Club Founder and Coach
Children are not mini-adults
Children who engage in physical activity and sport are not there to satisfy other people's wishes.
At play they should be free to make their own choices and express themselves. But they cannot fully express themselves if they are treated like miniature adults.
An esteemed figure in the world of coach education and psychology, Professor Richard Bailey wrote in an article for UK Coaching on developmentally appropriate sport:
Children are not mini-adults.
Children are not mini-adults.
Children are not mini-adults.
The repetition serves to emphasise the fundamental importance of this guiding principle.
Maybe children should tell their coaches to write out 'lines' if they fail to observe this primary rule of child-first coaching (I'm joking of course!).
It is not something Debbie's coaches ever fall foul of.
"What we look for in a coach, or what we call a coach facilitator, is somebody who is passionate about supporting children; is good with children; who can be flexible and open-minded; who hasn't got a fixed mindset about what they want to bring to youth sport.
"We want people who are prepared to think outside the box, who are dynamic, who are prepared to engage children, who can take a child who doesn't want to engage one day and support them and take them off to do something completely different and be creative with them about it.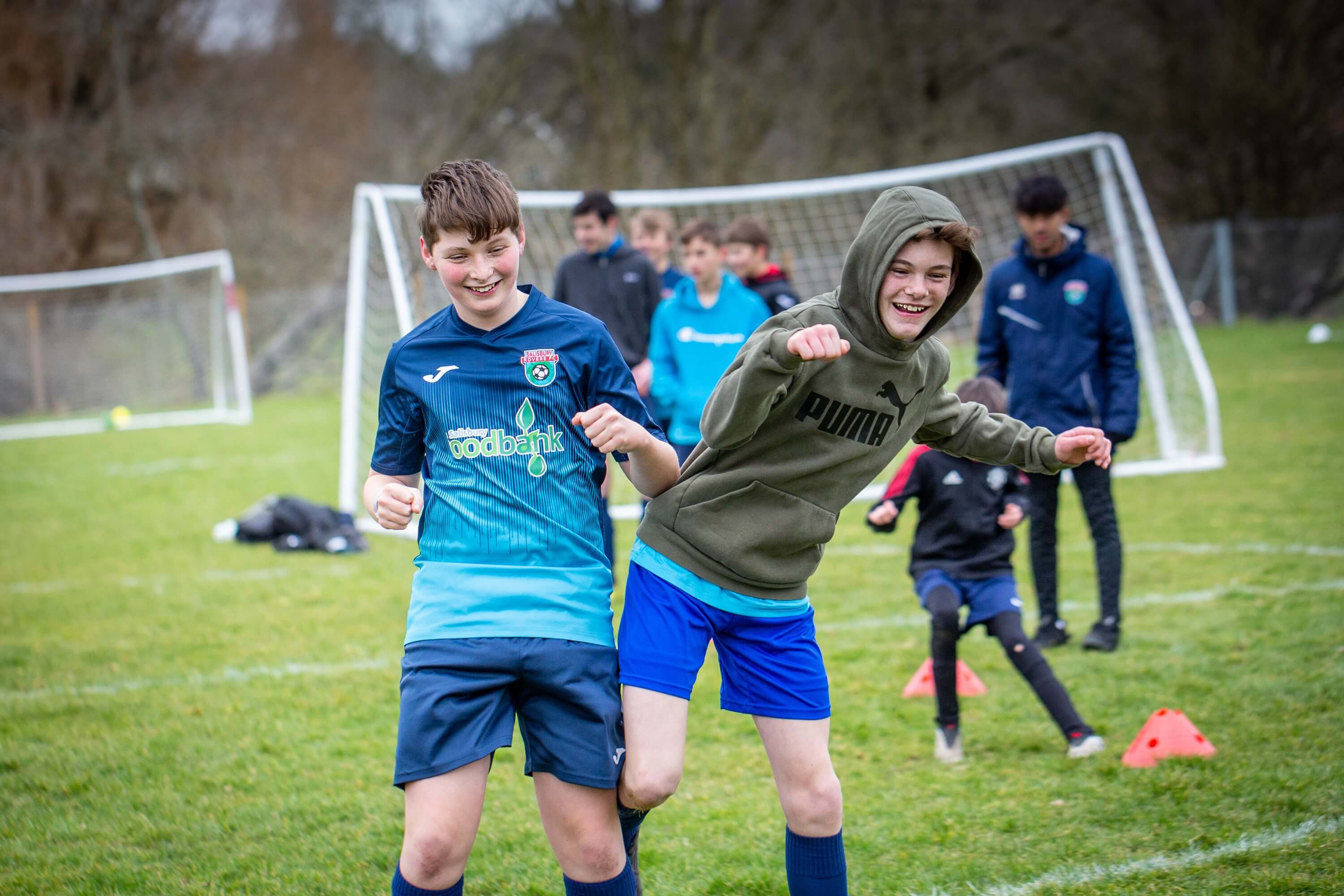 It's so much harder than a scripted session delivery because we're looking at real-time building relationships and dialogue, co-creation and change and flexibility, and we're evolving all the time around the children who are growing."
Debbie Sayers Salisbury Rovers FC Club Founder and Coach
Fun, friendship and freedom
And so, in summing up the case for the defence of child-first coaching, if we want our children to be in rude health, the 'f' words that coaches should swear by are fun, friendship and freedom.
We've seen retention rates decline, children have been hit by Covid, they've had play taken away from them. And it seems to me that this is the time to try and do something really positive and practical to try and change the game for kids, by pushing back against the adult stranglehold of the game," says Debbie.
Debbie Sayers Salisbury Rovers FC Club Founder and Coach
Here's hoping that in the not-too-distant future, the overwhelming majority of coaches will be singing from the same hymn sheet.
Let's be frank. The 'my way' approach to coaching is turning children off sport and physical activity. In offering a practical, achievable solution, Debbie hopes the end is here, and that 'my way' faces its final curtain.
Other resources that you may like...
SHARE THE MOVEMENT
Help spread the word by sharing this website with fellow coaches!